Hi y'all! It's been a busy weekend home alone with the boys, and it's not slowing down just because it's Sunday. Today I'm leaving to go to OKC for work until Wednesday, so Joey (who is coming back today) will be home alone with the boys. I tell you one thing, there is never a dull moment at our house, that's for sure!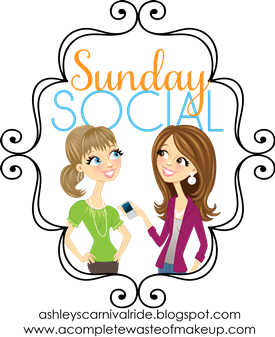 I'm linking up with Ashley and Neely for another Sunday Social. We're going back to high school/middle school!
1. What was your biggest middle school fashion mistake?
Oh gosh, only one? Let's just say that I wasn't quite the fashionista back then. I wore mostly discount clothes when most of my friends were wearing things from The Buckle, PacSun, and countless other stores from the mall. But, one of my outfits that I wish I could forget would be these overalls that I had. Now, overalls were cool back then, but still.... I had these brown velour "Tigger" overalls. Yeah... that's right, "Tigger". Ugh... it was terrible. At the time they were fairly cool. Well, probably not, but they were to me.
2. Who were your best friends in high school? Pics?
Jackie Jo was definitely my best friend. I also spent a lot of time with Rosa, Lisa, Laura, and Melissa.
Jackie Jo (right) and I on the first day of school our senior year.
Jackie Jo (right) and I at homecoming.
Jackie Jo (left) and I on our last day of school our senior year. Apparently I really liked wearing yellow and she really liked wearing pink. Haha!
3. What was a typical weekend like for you in high school?
Well this is just going to show how pathetic I was... but a typical weekend was: Friday night - my step-mom brought home pizza and calizone from Mazzio's, Saturday - We went to Poteau to the bank, Western Sizzlin, and Wal-Mart, Sunday was church and time with family, and everything else was homework, chores, or working on some project.
4. Did you have any boyfriends/girlfriends? Tell us about that.
I had a boyfriend the start of my freshman year, but had to break it off soon because my parents said I was "too young" to have a boyfriend. I didn't have another boyfriend until my senior year. His name was Daniel and he was a guy I knew from church camp and youth events. It only lasted during my senior year, and then I broke up with him during the summer.
5. Did you have any secret codes with your friends? Spill your secrets!
Hahahaha... yes. Yes I did. Jackie Jo and I had code names for the guys we liked. We called them names of country musicians like Clay Walker, George Strait, and John Michael Montgomery. So we had C.W., G. S., and J.M.M. There were probably more, but I can't remember them right now.
6. If you could relive one day/moment/experience from middle school or high school, what would it be?
Hmm... I loved high-school. I mean, it had it's rough spots, but I loved it. It was fun. But as fun as it was, I don't know if I'd want to relive too much of it. Although, my last basketball game might be a good moment to relive. If we had won, we would have gone to the State Tournament. At the time, I really didn't realize that. I'd like to go back and replay that game... just to see...
And that's a wrap! You should join the link up! Super fun! If not, well, share your answers anyway in the comments below! :)