Hi y'all! What a whirlwind weekend it's been! But so much fun! We left Friday evening and went to Ruidoso, NM, for a Leadership Retreat. We only stayed one night, but it was so nice to be kid-free for 24 hours, spend some time on the mountain, and get to spend time with friends. We got home after the kiddos were already in bed on Saturday night and soon went to bed ourselves after being completely worn out. Waking the kids up yesterday morning was wonderful! They were so excited to see us! Makes my heart melt. Yesterday was church, working on things around the house, church again, and then I made a trip to Lubbock to get groceries. So forgive my tardiness for my Sunday Social, but I'm here! :)
Anyway, time for another link up with Ashley and Neely for Sunday Social!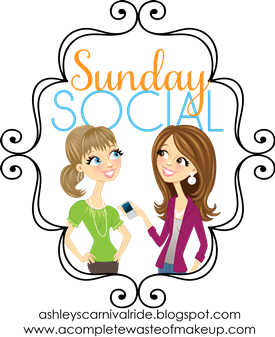 1. What was your first car?
A white Ford Contour Sport. It wasn't fancy, but it was mine and I loved it.
2. Who was your favorite childhood teacher?
I went to the same school head-start through high-school graduation and I had a lot of really great teachers. Some that taught me a lot about the actual subject matter, and some that taught me a lot about life. I would say that my favorite teachers were the ones that taught me a great mixture of both. It's kind of unfair for me to pick my uncle since he had more opportunities than others to teach me, but in all honesty, I have to say he's my favorite. The lessons he taught me in school were excellent. I still use a lot of it today. Interestingly enough, he was a math teacher. And I remember being convinced that I would never use that stuff again. And besides the school lessons, there were also a lot of life lessons taught in his class room. And those were probably the best ones.
3. Were you involved in any sports/extracurricular activities?
Um... Yes, yes, yes, and more yes! I was involved in just about every club and activity on campus. It was a small school so, that was to be expected.
I'm 24 in the black. This was taken my senior year at the LeFlore County Tournament. We placed 3rd that year.
2nd from the left (in case you can't recognize me). This was at home-coming our senior year. It was funny because all 3 of us home-coming attendants wore dark blue, sparkly dresses. Completely unplanned.
On the far right, number 24. This was our senior night.
Playing our conference and district rivals, the Bokoshe Lady Tigers at the District Tournament. I'm right in front, number 24.
Another picture from our game at the District Tournament. I'm the one taking an elbow to the throat.
But, the elbow to the throat was worth it, because we won!
Our district champs trophy.
Me after a softball game. OH and here's a picture of inside my first car! ;)
4. What was your favorite birthday party?
At Chuck. E. Cheese and I think I was turning 11. We were keeping it small so it was just me and one other friend because my other friend that was supposed to go got tick fever and was in the hospital.
5. Who was your teen celebrity crush?
Easy... Nick Carter. I was a HUGE Backstreet Boys fan and Nick Carter was my favorite!
I totally had this picture up on my wall. Which was kind of a shrine to all things BSB. Don't hate.
6. What show/movie did your parents not allow you to watch?
My parents really didn't care what I watched. But they controlled the TV every night so I didn't really have any options. But I do remember at my grandparents' house after Wheel of Fortune or something Roseanne would come on, and as soon as they heard the harmonica playing in the very beginning of each episode, we had to change it. They did not like that show at all. Haha.
And that's it! I know I'm late, but I just couldn't pass up this Sunday Social because the questions were so much fun! :)
Do any of my answers surprise you?