Hi y'all! Wow!! What a fun-packed weekend it's been! Friday night I bought fabric to go towards my goals of finishing up the boys' rooms this year. I'll show you the fabric for BB's room tomorrow. :) Yesterday I made a pot of amazing healthy soup (recipe to come soon) and last night we had Outpour at a friend's house. So much fun!
Today was Family Day at church so we had our monthly potluck which is always yummy (but not as yummy when you're dieting) and lots of fun. And now, we have the rest of the day off to spend time together. And to top off such a great weekend, I'm linking up with Ashley and Neely
again for Social Sunday because it's just been so much to join in!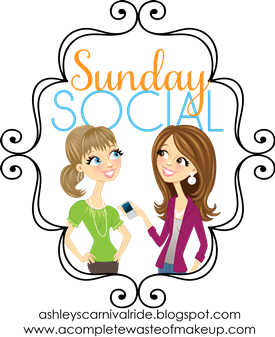 So let's get started!
What is your ideal way to relax?
I don't think I have an ideal way to relax, but some of my favorite ways are having some crafty time by myself, curling up with the hubby and watching a movie, and recently, I've discovered how relaxing it can be to take a bath.
An instagram pic of one of my crafty times.
You can follow me on IG at reginakayxo
Where is your favorite place to be?
Umm... I'm going to say anywhere with my family. That's my sappy but true answer. And my other answer is in the mountains. We go to the mountains several times a year, and it's wonderful to be around the trees and getting to hike... or ride around in fun little car things.
Who do you consider your biggest role model?
This is an easy question... my Granny!
What does your life look like in 3 years?
Oh gosh.... well.... being in ministry and foster care, our lives can completely flip flop at the drop of a hat. But all things considered, I see us having two sweet little boys that still feel our home with love and laughter, being more financially secure, living a healthier life-style, and maybe having a girl on the way or already here. ;) Hey, a girl can hope right? Besides, I need a little girl or two to help me balance out all these boys! haha...
If you could go back and change one decision what would it be?
I would have made college more of a priority instead of working so much.
What is your biggest accomplishment in life thus far?
I would have to say my family, since that encompasses my marriage and our two little foster boys that will hopefully both soon be our forever boys. :) I know a lot of people didn't think Joey and I would make it, and here we are still going strong, and also providing a safe, loving home to two precious little boys who needed it the most.
And that wraps up this week's Sunday Social. Thanks everyone for stopping by! :)
And a little preview of what's on the blog menu this week :
♥ The fabric I bought for BB's room and a refresher of his room makeover inspiration board.
♥ A recipe for healthy, tasty soup.
♥ The fabric I bought for McCrae's room and an updated room makeover inspiration board.
♥ And more!!
Care to share any of your answers for the above questions?