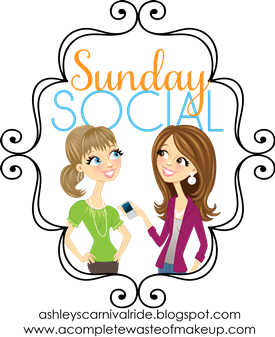 Hi y'all! I enjoyed linking up for the Sunday Social so much last week, I decided to do it again! This week's topic is all about 3's... and I have to admit, it got tougher as I went.
1. Top 3 favorite kinds of food.
Duh. This one's easy. Mexican, American, and Italian.
2. First 3 things I do in the morning.
Also easy... hit snooze, hit snooze, and hit snooze. Done and done!
Haha... but really, am I right? Beyond that it's usually see if Joey's still in bed or not, check my phone, and put on my glasses.
3. Last 3 things I do at night.
Take off my glasses, play games on my phone for a while, put my extra pillow in the floor.
4. 3 TV shows I NEVER miss.
5. 3 places I want to visit.
I'm just going to put Europe since it's pretty much all-encompassing of so many countries I want to visit. Also, New Zealand, and all of the United States.
6. 3 people I can always count on.
This is my toughest one.... and in my mind I'm having to put little asterisks beside each one for one reason or another, but I'll say Joey, Papa and Candace.