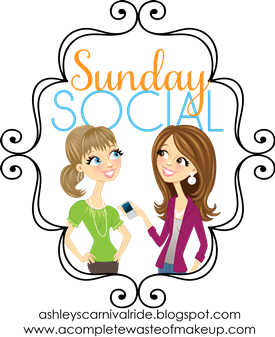 Hi y'all! My friend Ashley has been doing this really fun link-up on her blog for a while now, but I've never taken the time to participate. Since she's going back to the beginning with the topics this week, I thought it would be a perfect time for me to jump right in there. So welcome to my first Sunday Social, linking up with Ashley and Neely.
1. What is the name of your blog? How long have you been blogging?
Live Delightfully. I got it from one of my favorite verses in the Bible, Psalm 37:4.
I've been blogging since August 2009, so this August, I'll be celebrating my 4 year blogoversary. Wow... I hadn't even thought about that, but I guess I should do something really awesome to celebrate!
2. Why do you blog?
I started out blogging when I started my Etsy shop. I had read forum after forum about how I should blog about my Etsy shop and items, but it didn't take very long before my posts had very little to do with my Etsy shop, and more to do with my projects, various writings, and just anything else that came to mind. I've always loved to write, and my blog became the perfect outlet for me to share my writings.
3. What is the first blog you ever followed?
I think one of the first blogs I ever followed was Wise Impressions... which isn't even around anymore.
4. What is your favorite post you wrote in 2012?
One of my favorite posts of 2012, also happens to be one of my first posts of 2012. I wrote about my secret war with PCOS, and about how we all have secret wars that we are fighting.
5. What are your blogging goals for 2013?
I really haven't sat down and wrote out any of my blogging goals for 2013. But off the top of my head, I have to say... growing my blog more, I'd like to reach a couple more milestones in the number of followers and readers, I'd like to write more posts about my life.
6. Name your top 3 favorite blogs.
Gosh, this is such a hard one... I've got so many blog that I just LOVE to read!
I'd have to say that MADE is definitely one of my favorites. I always get soooo inspired by what Dana has to blog about.
Delightfully Noted is another favorite. Jennifer and I are so much alike. We're like bloggy BFFs who share the same humor (as weird as it is at times) and love for pretty things.
And I'm going with Henry Happened because Stephanie and I are in the same boat. Busy moms, who just want to be fashionable and stylish on a tight budget. And who love to DIY more than any person should... ;) haha!
So there you have it! My first Sunday Social link-up with Ashley and Neely and you should totally go link up too... lots of fun had by all!
And, because I love finding new blogs, go ahead and tell me your three favorite blogs!