Hi y'all! And Happy Monday to you!
I've got one last sponsor intro for you and this one is special because I've known Ashley the longest (of my sponsors) and we're friends IRL. Ashley and I met at the UCOCOC (University of Central Oklahoma Christian Outreach Center) and have been friends ever since. We share a love of all things girly, Oklahoma, and of course, our faith. It's great having friends of the same faith, it makes things easier in a lot of ways.
Ashley and I attended a Kenny Chesney concert together (which was only me 2nd "big" concert to attend), and she (with Amanda) introduced me to the glory of The Cheesecake Factory and Anthropologie. All in one trip! She's a special girl and I promise you'll love her! So read a bit about her below, and then go follow her!
Hey y'all! I'm Ashley, and I blog over at Ashley's Carnival Ride. I spend my days talking about life in Oklahoma City and my new job with The Vintage Pearl. My family, my friends, and my kitty Jack also pop in from time to time! I love making new blog friends, so please stop by and say hi!
Ashley and I in OK, getting ready to go to The Cheesecake Factory!
Saying goodbye after my lovely weekend in OKC.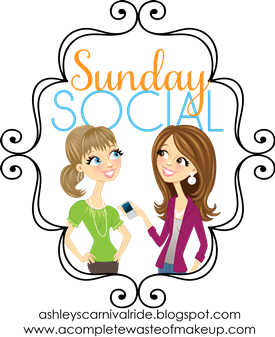 Ashley's (and Neely's) new Sunday link-up! Go join the fun!!
Ashley's kitty. You see him a lot on her blog!
So head over to her blog and check her out! She's sweet, fun, and will definitely make you smile!
www.ashleyscarnivalride.blogspot.com
| If you're interested in being a sponsor for August, please let me know by leaving a comment below. |